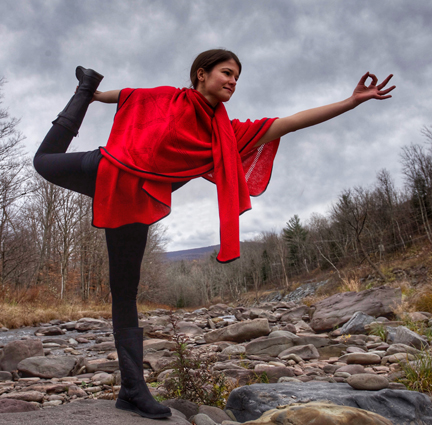 Karma Yoga is the path of selfless action without the need or desire for anything in return. My life has followed that of a Karma Yogi, finding pure happiness and enjoyment when in service of others.
Although I was exposed to the practice of yoga at a young age, my path to becoming a yoga instructor didn't begin until early adulthood. I accompanied my mother on a trip to the Sivananda Ashram to participate in a course called Yoga of The Heart. This was my first time in an ashram setting and needless to say, I felt extremely uncomfortable and out of my element. The instructor of the course, Nischala Joy Devi, noticed my discomfort and went out of her way to make me feel at ease. Because of her sincere kindness
I was able to relax and enjoy what the ashram had to offer. After leaving I found myself inquiring about the practice of yoga.

Over time I adopted a yogic lifestyle and noticed my overall physical, mental and emotional wellbeing started to improve. I then decided to complete a 200-Hour Certification at the Integral Yoga Institute NYC while also pursuing a B.S. in Marine Biology. After completing both my teacher training and college degree, I started working at Ashrams for Autism, an organization providing yoga in schools and facilities for the autism and special needs community. Today I serve as the Executive Director at Ashrams for Autism and spend my time both teaching for the organization and spreading its mission to individuals within the community.
I have seen and experienced first-hand the healing powers of yoga and firmly believe yoga can transform the body and mind for the better. I also understand that the practice of yoga is unique to each individual. This philosophy is kept in mind when I am teaching to ensure that everyone has an optimal experience while taking my class.